Home
Talk

223
24,442pages on
this wiki

Welcome to Brickipedia, a free online LEGO encyclopedia written collaboratively by its readers known as Brickipedians. The site is a Wiki, meaning that anyone, including you, can edit almost any article right now by clicking on the Edit link that appears at the top of a page. With 24,442 pages and 350 active users, we are Wikia's largest LEGO wiki, founded on January 29, 2006. This wiki is based on the MediaWiki software used to run Wikipedia, and with the help of editors like yourself, we strive to be the best LEGO reference site out there.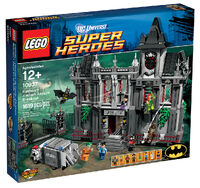 10937 Batman: Arkham Asylum Breakout is a DC Universe Super Heroes set first released on December 18, 2012 in the United Kingdom and Germany, and on December 27 anywhere else. At 1619 pieces, it is the largest Super Heroes set to date, taking the title away from 6869 Quinjet Aerial Battle. The set contains a two-story rendition of the Arkham Asylum manor, including special prisons for Mr. Freeze and Poison Ivy, an office for Dr. Harleen Quinzel, as well as other rooms. 10937 also comes with a gate, complete with security cameras, and an Arkham Asylum van. Minifigures included are Batman with black wings and a Batarang, The Joker in an inmate's jumpsuit, a hooded Robin with a kendo stick, The Scarecrow, Poison Ivy with vines, a Guard with handcuffs, Dr. Harleen Quinzel with interchangeable hair and jester's hat, and The Penguin with a fish and an umbrella.
This month's logo
May's Brickipedian of the Month: Irnakk
Congratulations from all of us here at Brickipedia!
Recent and upcoming themes
Current themes:
Upcoming themes:
On this day...