1247 Esso Pumps/Sign is a System i Leg Accessories set released in 1955. It contains 2 pieces: an Esso Pump stand, and an Esso sign.
Notes
This set was released only in Denmark, Norway and Sweden. The Danish version also had 3 Esso oil cans pictured below, it was a 1x1 red brick with a sticker applied.
Set 231 Esso Pumps/Sign is exactly the same as this set except it was released in all the countries LEGO was sold in at the time. Including U.S.A, Canada, United Kingdom, and the remainder of Europe.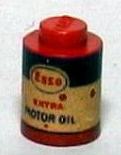 Ad blocker interference detected!
Wikia is a free-to-use site that makes money from advertising. We have a modified experience for viewers using ad blockers

Wikia is not accessible if you've made further modifications. Remove the custom ad blocker rule(s) and the page will load as expected.