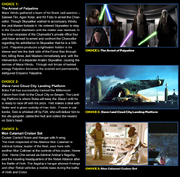 The 2009 Fan's Choice Set is a set where people voted on three alternatives for a 2009 Star Wars LEGO set. Voting was from May 10 to 18, 2008. The three alternatives were:
The Arrest of Palpatine
Slave I and Cloud City Landing Platform
Mon Calamari Cruiser Set
The winning set was announced at the Toy Fair February 2009.
It was confirmed after the voting by Toys 'R' Us representatives that the "Slave I and Cloud City Landing Platform" came in a distant third, and was not implemented into the set.[1] It was later found that the winner of the contest was the Mon Calamari Cruiser Set, and became the 7754 Home One Mon Calamari Star Cruiser.
Notes
One year after the competition a Slave I set was made, however, this set lacked the Cloud City landing platform. In 2012 a Palpatine's Arrest set was made.
Sources
References
Ad blocker interference detected!
Wikia is a free-to-use site that makes money from advertising. We have a modified experience for viewers using ad blockers

Wikia is not accessible if you've made further modifications. Remove the custom ad blocker rule(s) and the page will load as expected.