4-LOM
Theme:
Accessories:
Years: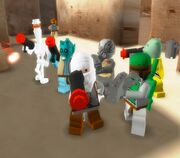 4-LOM is a bounty hunter protocol droid that initially appeared only in video games, but was later included in 75167 Bounty Hunter Speeder Bike Battle Pack.
Background
4-LOM was assigned to work on the Kuari Princess where he became a translator to the ship's wealthy passangers. He found his work undemanding and after the
Kuari Princess'
s computer altered his programming, he started to steal from the passengers. He then left the
Kuari Princess
forever and began a thieving life, and when
Jabba the Hutt
altered his programming further, he learned to kill and became a successful bounty hunter. Later, he even became partners with
Zuckuss
, and together they eventually joined the Rebel Alliance, rescuing rebels that had been stranded on Hoth after the Battle of Hoth.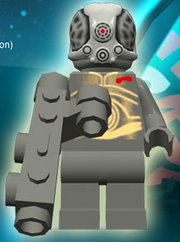 Appearances
Sets
Notes
See Also
Ad blocker interference detected!
Wikia is a free-to-use site that makes money from advertising. We have a modified experience for viewers using ad blockers

Wikia is not accessible if you've made further modifications. Remove the custom ad blocker rule(s) and the page will load as expected.