4-LOM
Talk

1
26,877pages on
this wiki

This minifigure has only appeared in video game(s)
Although this article is about an official minifigure, it never existed in physical form, or appeared in any official LEGO sets.
4-LOM
Theme:
Accessories:
Years: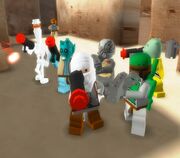 4-LOM is a bounty hunter protocol droid that appeared only in video games, and has never been part of any official set. His creator was also a bounty hunter.
Background
4-LOM was assigned to work on the Kuari Princess where he became a translator to the ship's wealthy passangers. He found his work undemanding and after the
Kuari Princess'
s computer altered his programming, he began a ruthless personality and started to steal from the passangers and their luggage. He then left the
Kuari Princess
forever and began a thieving life, and then
Jabba the Hutt
altered his programming further, he became a succesfull bounty hunter protocol droid and became partners with
Zuckuss
.
Appearances
Notes
See Also
4-LOM, on Wookieepedia, the Star Wars Wiki.