Chequered Flag 500
Item №:

6551

Pieces:

176

Minifigures:

6

Price:

$26.50

Ages:

6 - 12

Released:
Theme:
6551 Chequered Flag 500 is a Town set released in 1992 as part of the Race line. It contains a baseplate with the start/finish line of a race track, two cross country race cars, a grand stand, a pit stop and six minifigures, including two race pilots, race organizers and spectators.
Description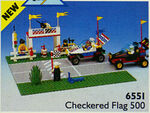 On the right side of the start/finish line are a pole with start-lights, a grandstand for the race organizer, and a pit stop with oil drums, a fire extinguisher and a tool rack. The barricades bear the Octan logo.
The two racers share the same design and feature spring suspensions and large rear spoilers. They are labelled with the numbers "2" and "4".
Among the six included minifigures are the two race pilots, two race organizers, one with a walkie talkie and one with a chequered flag, as well as a male and a female spectator.
Notes
Other LEGO System sets including race tracks
External links
Ad blocker interference detected!
Wikia is a free-to-use site that makes money from advertising. We have a modified experience for viewers using ad blockers

Wikia is not accessible if you've made further modifications. Remove the custom ad blocker rule(s) and the page will load as expected.