6813 Galactic Chief is a Space Police II set released in 1993. It includes one Space Police II chief, and a small speeder for him to ride.
Description
6813 Galactic Chief is one of the smallest Space Police sets. It has two rocket thrusters and tail fin. Oddly, though it is designed to capture criminals, it neither has weapons or a jail cell. Its colour scheme is a mixture of red, gray, and black.
Notes
The set only includes 23 pieces, making it one of the smallest Space Police sets released.
The only other set that included the Space Police II Chief minifigure was the 6984 Galactic Mediator. The figure's torso, Part 973px309, only appears in these two sets.
Minifigures Included
External links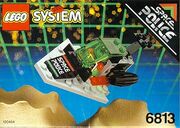 Ad blocker interference detected!
Wikia is a free-to-use site that makes money from advertising. We have a modified experience for viewers using ad blockers

Wikia is not accessible if you've made further modifications. Remove the custom ad blocker rule(s) and the page will load as expected.