6861 X-1 Patrol Craft is a Classic Space set released in 1980. It includes 53 pieces, building a spacecraft with a red Classic Space astronaut and a space ship.
Description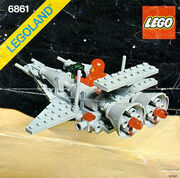 The starship has twin engines with one trans-red 1x1 round brick on each. In the front are two twin missles, one on each side of the cockpit. A small control panel can be found in front of the cockpit.
Minifigures included
External links
Ad blocker interference detected!
Wikia is a free-to-use site that makes money from advertising. We have a modified experience for viewers using ad blockers

Wikia is not accessible if you've made further modifications. Remove the custom ad blocker rule(s) and the page will load as expected.