6901 Mobile Lab is a Classic Space set released in 1980. It included two astronaut minifigures, and a small laboratory. This set featured small, red wheels on the bottom. It also featured a large screen on the side, a grabbing arm, a sonar dish, and an antenna above the large screen.
Notes
This set was the second largest Space set released in 1980, despite having only 135 pieces.
Minifigures included
External links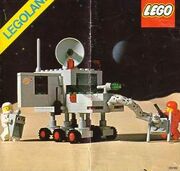 Ad blocker interference detected!
Wikia is a free-to-use site that makes money from advertising. We have a modified experience for viewers using ad blockers

Wikia is not accessible if you've made further modifications. Remove the custom ad blocker rule(s) and the page will load as expected.