Temple of Airjitzu
Item №:

70751

Pieces:

2028

Price:

$199.99
€199.99
£169.99
$299.99

Ages:

14+

Released:
Theme:
70751 Temple of Airjitzu is a Ninjago exclusive set released in 2015.
Description from LEGO.com

This is a description taken from LEGO.com. Do not modify it. (visit this item's product page)
---
Enjoy the ultimate LEGO® NINJAGO™ building experience as you construct the majestic Temple of Airjitzu and surrounding village! The highly detailed Temple building has many delightful architectural features including Oriental–style decorated windows and sliding doors. The intricate wooden-frame-style walls of the nearby Blacksmiths and beautiful curved roofs of the Smugglers Market will also test your LEGO building skills. And with every Ninja included in one set for the first time, plus loads of other key characters, you can role-play all your favorite NINJAGO adventures. Take tea in the reception area of the Temple, practice your Ninja moves in the training room or join Wu in his study to read or paint. Discover the Ninja glider upstairs at the Blacksmith's workshop, cross the bridge guarded by the stone dragons and seek out hidden treasure at the Smugglers' Market. Then turn off the lights in your room to watch the Temple's illuminated spinning shadow theater! Includes 12 minifigures with assorted weapons: Lloyd, Kai, Jay, Zane, Cole, Nya, Wu, Misako, Dareth, Postman, Jesper and Claire.
Includes 12 minifigures with assorted weapons: Lloyd, Kai, Jay, Zane, Cole, Nya, Wu, Misako, Dareth, Postman, Jesper and Claire.
Village features the Temple of Airjitzu, Blacksmith's workshop and Smugglers' Market connected by paths, steps and bridge with 2 stone-style dragons on either side, plus a statue of Sensei Yang and grass stalk elements
Weapons include Katanas for Lloyd, Kai, Jay, Zane, Cole and Nya
Get all six Ninja in one set for the first time!
Drink tea, train to be a Ninja and study with Wu at the Temple!
Find the Ninja glider at the Blacksmith's workshop
Seek hidden treasure chests at the Smugglers' Market!
Put on a show for your friends with the illuminated spinning shadow theater!
Recreate your favorite scenes from the NINJAGO™: Masters of Spinjitzu TV show
Village measures over 16" (42cm) high, 20" (52cm) wide and 13" (35cm) deep
Temple of Airjitzu measures over 16" (42cm) high, 7" (19cm) wide and 7" (19cm) deep
Blacksmith's workshop measures over 5" (15cm) high, 5" (15cm) wide and 7" (20cm) deep
Smugglers' Market measures over 5" (14cm) high, 5" (14cm) wide and 7"(20cm) deep
History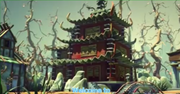 In "The Temple on Haunted Hill", the Temple of Airjitzu was said to be the monastery of Sensei Yang, the creator of Airjitzu. After his death, he and his students still lived on as ghosts, and the temple became a haunted house. The temple has a rule that whoever makes it in must escape before sunrise, or they will become a ghost, as this happened to Cole when the Ninja went there in order to learn Airjitzu. Tourists do visit outside the temple, though no one dares to go inside. The Temple of Airjitzu returned in Season 6, in the form of being incorporated into Djinjago by the Sky Pirates after being lifted into the air by the Djinn Blade.
In "Day of the Departed," the Temple is revealed to still be floating despite the events of season 6 being negated, and Cole traveled there in order to confront Yang for turning him into a ghost. However, this played right into Yang's hands, as he had intended to take advantage of the magical Yin-Yang Eclipse to effect his return to mortal form. After Cole's rash actions allowed Yang to revive several defeated enemies of the Ninja to attack them, Yang revealed that he had cursed himself, his students, and his temple after attempting to use the Yin Blade to achieve immortality. He then attempted to regain human form by opening the Rift of Return, but was defeated by Cole, which freed his students from his curse and allowed them to return to normal. After a change of heart, Yang gave up his own chance to pass through the rift so that Cole could do so, and remained as "Master of the House" to the now restored temple, which the Ninja then moved into as their new base.
In "The Hands of Time" Misako begins moving things into the Temple with help from Ronin while Dareth "supervises"; while there the trio sense a disturbance caused by one of the Time Blades.
Minifigures included
Gallery
Notes
First time a light element is used in a LEGO Ninjago set.
External links
Ad blocker interference detected!
Wikia is a free-to-use site that makes money from advertising. We have a modified experience for viewers using ad blockers

Wikia is not accessible if you've made further modifications. Remove the custom ad blocker rule(s) and the page will load as expected.