75167 Bounty Hunter Speeder Bike Battle Pack is a 122 piece Star Wars Battle Pack released in 2017.
Description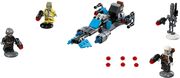 Minifigures included
Notes
Unlike the other Star Wars Battle Packs, this is the only battle pack to feature only main characters rather than generic troopers.
Ad blocker interference detected!
Wikia is a free-to-use site that makes money from advertising. We have a modified experience for viewers using ad blockers

Wikia is not accessible if you've made further modifications. Remove the custom ad blocker rule(s) and the page will load as expected.