75173 Luke's Landspeeder is a Star Wars set released in 2017.
Description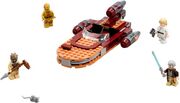 75173 Luke's Landspeeder is a set released in the 2017
Star Wars
wave, containing 149 pieces and 4 (or 5)
minifigures
. It comes with
Luke Skywalker
,
Ben Kenobi
,
C-3PO
, a
Tusken raider
minifigure, and a Womp Rat thrown in for good measure. It includes the 2015 redesigns of Ben, Luke, and C3PO. This set also includes a redesigned version of the Tusken Raider, exclusive to this set, and a rat. The main attraction of this set is Luke's Landspeeder, redesigned for 2017.
See also