7774 Crab Crusher
Talk

0
26,788pages on
this wiki

Crab Crusher
Item №:

7774

Pieces:

618

Minifigures:

Aqua Raider (2)
Skeleton

Price:

$49.99
£34.99

Ages:

7 - 12

Released:
Theme:
7774 Crab Crusher is a set, released as part of the Aqua Raiders line in 2007. It includes a giant monster crab, a large submarine, an underwater scooter, a small rock formation, two Aqua Raiders and a skeleton.
Details
The submarine contains a small motor (just a model) and storage space for various tools in the aft compartment and the helm station in front of it. The interior of this section can be accessed by flipping open the sidewalls or detaching the sub's tower which also houses a small underwater robot. The front section of the sub can be detached and is equipped with a spring-loaded gun.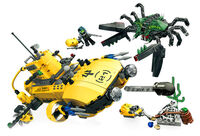 Next to the rock is a barrel filled with two gems and a skeleton armed with a musket. This set contains the same sticker sheet as 7775 Aquabase Invasion which is why some stickers that are only intended for the other set are seemingly useless and not mentioned in the building instructions. The sticker on the viewscreen that shows the giant squid is also used in the Aquabase set.
The pictures on the box, the covers of the instruction booklets and the catalogues (see image) all show the two hoses on the sub's aft airtanks connected to the tower, which is actually impossible (without tilting the tanks) due to the limited length of the hoses. In the instructions they are correctly shown to be connected to slope bricks way behind the tower.
LEGO.com Description

This is a description taken from LEGO.com. Do not modify it.
---
Awesome action beneath the sea!
Here comes the biggest Aqua Raiders submarine of all! Equipped for undersea adventures with cannons, harpoons, a detachable mini-sub and a launching aqua-missile, this aquatic explorer is the king of the depths'¦at least until it encounters the giant monster crab! Now it's a fight to the finish between submarine and savage sea beast. Better hope the crew doesn't end up like that old pirate skeleton and his treasure! Includes 2 diver minifigures and skeleton! Sub measures 10.5" (26 cm) long! Press to fire the sub's undersea launcher! Open the sub's hatch to take a seat at the controls! Launch the mini-sub! Giant crab has legs and claws that really move! Crab measures a huge 6.5" (16.5 cm) wide! Skeleton guards his sunken treasure!
Notes
Minifigures Included
See also
External links