The Admiral
Theme:
Years:
The Admiral is the leader of the Conquistadors.
Background
The Admiral was marooned on a desert island when he was a baby and found by some Islanders. Since then he has been a sailor. Through an unknown process, he became the admiral of the Imperial Armada. No one knows his real name, and since he's "the toughest sea dog to sail the seven seas", no one dares to ask!
The Admiral wears his armor everywhere, even in the bathtub (despite this, he is not wearing it in LEGO Racers, due to the lack of neck pieces). His favorite activity is playing soccer with Islanders.
LEGO Racers
The Admiral also appears in LEGO Racers, as an opponent in the final circuit of the game.
Appearances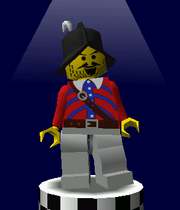 Notes
A contest in LEGO Mania Magazine was held to determine his name, with the two competing names being Cannonball Cordoba and Don Diego de LEGO. However, the winning name was never announced.
In Bricks And Pieces magazine, he was named Sergeant Speedy.
Ad blocker interference detected!
Wikia is a free-to-use site that makes money from advertising. We have a modified experience for viewers using ad blockers

Wikia is not accessible if you've made further modifications. Remove the custom ad blocker rule(s) and the page will load as expected.