BMO
Theme:

Adventure Time

Years:
BMO
is an
Adventure Time
minifigure introduced in
LEGO Dimensions in
2016
. She is
Jake
's personal gadget.
Background
BMO (phonetically spelled Beemo) is Finn and Jake's living video game console, portable electrical outlet, music player, roommate, camera, alarm clock, toaster, flashlight, strobe light, skateboarder, friend, soccer player, video editor, video player, tape player and chef. 
Trivia
BMO is portrayed by Niki Yang who also voices Lady Rainicorn in Adventure Time.
Appearances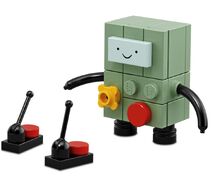 Ad blocker interference detected!
Wikia is a free-to-use site that makes money from advertising. We have a modified experience for viewers using ad blockers

Wikia is not accessible if you've made further modifications. Remove the custom ad blocker rule(s) and the page will load as expected.