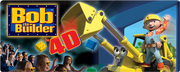 Bob the Builder 4D is a 4D film at the Imagination Theatre in the Imagination Centre at LEGOLAND Windsor. It made use of 3D imagery and glasses, as well as 4D effects like wind machines, water and snow. It is not at LEGOLAND anymore.
Plot
Bob and his team are building a roller-coaster. They plan it using DUPLO bricks. Spud wants to get straight to building and while going off excitedly he knocks over Birds' house. He uses the bricks Bob used for his plan to build a new birdhouse, but it is not structured well and falls over. Wendy helps him re-build it while Bob finishes the roller-coaster. Bob, Wendy, and Spud all test ride it.
Featured Minifigures
Ad blocker interference detected!
Wikia is a free-to-use site that makes money from advertising. We have a modified experience for viewers using ad blockers

Wikia is not accessible if you've made further modifications. Remove the custom ad blocker rule(s) and the page will load as expected.