The Brachiosaurus is an animal dinosaur figure. Various incarnations and versions of the Brachiosaurus have been released since 1997.
DUPLO Brachiosaurus
Version 1
The first Brachiosaurus figures appeared in 1997 in the Dino DUPLO line. It also appeared in the Dino (Dacta) theme. The figure was only one single piece with movable neck.
A smaller version of the figure was also released as a baby Brachiosaurus.
Version 2
In 2008 a new version of the DUPLO brachiosaurus was released with the set 5596 Dino Birthday. It was similar to the old one, with new printings.
System Brachiosaurus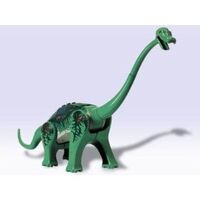 The Brachiosaurus was only released in System with the Dinosaurs theme, in 2001. An adult version was featured with the 6719 Brachiosaurus. A baby version of the animal made of common parts was available with two sets: the 5952 Baby Brachiosaurus and the 7002 Young Brachiosaurus.
Notes
In the set 2600 the Brachiosaurus is named Brontosaurus.
Gallery
Appearences
Video Game Appearances
Ad blocker interference detected!
Wikia is a free-to-use site that makes money from advertising. We have a modified experience for viewers using ad blockers

Wikia is not accessible if you've made further modifications. Remove the custom ad blocker rule(s) and the page will load as expected.