Brickipedia:IRC
Talk

14
27,247pages on
this wiki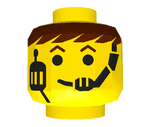 Welcome to Brickipedia's Internet Relay Chatroom!
Please read the rules before chatting.
The IRC can be accessed through the embedded window below. Your username will be automatically inserted, all you need to do is click the Connect button.
More experienced IRC users may access this channel at #Brickipedia on the Freenode network.
IRC chat
Loading - please wait

Counter Vandalism Network
See Also: Counter Vandalism Unit
There is also a counter-vandalism channel for those interested, tagged recent changes are fed onto the channel by a bot (Furry2). The CVN channel is only for fighting vandalism, to enter text you will need to be voiced, if there aren't any of the regular #brickipedia op's around, join the #countervandalism channel listed in the channel topic and ask for a voice in #cvn-wikia-lego-wikis.
Wikis involved in the CVN:
This channel can be accessed at #cvn-wikia-lego-wikis on the Freenode network or those users without a IRC Client through the web chat ([1]).