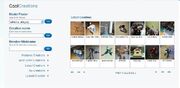 Cool Creations is a feature that appears in the LEGO Club Magazines and on LEGO.com. In the magazine Readers send in photos of them with their creations, and some are chosen to appear on the page. On the website, Club Members submit photos and descriptions of their creations for moderation. After they are approved, they are there for other members to view and vote on.
LEGO.com Description
The COOL CREATIONS gallery, full of thousands of unique models created by LEGO fans and where you can upload your own amazing original creations! What are you waiting for? Do it now!
Ad blocker interference detected!
Wikia is a free-to-use site that makes money from advertising. We have a modified experience for viewers using ad blockers

Wikia is not accessible if you've made further modifications. Remove the custom ad blocker rule(s) and the page will load as expected.