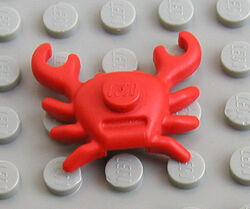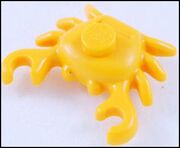 Part 33121 is a crab piece that has featured in many water-themed sets. It has six tiny legs, two pinchers, a stud on the top, and a grap on the back to fit a minifigure's hand. It first appeared in since 1998 and, so far, has four colour variations.
Appearances
This article or section is incomplete.
Please improve the article, or discuss the issue on the talk page.
Ad blocker interference detected!
Wikia is a free-to-use site that makes money from advertising. We have a modified experience for viewers using ad blockers

Wikia is not accessible if you've made further modifications. Remove the custom ad blocker rule(s) and the page will load as expected.