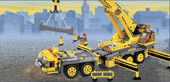 Custom in Progress!
This custom is not yet finished and is being modified by its creator, lego721, and may undergo critical changes while this message remains in place.
Customs Article


This article describes a custom creation, custom theme, or other fan material, made by a Brickipedia contributor. It has never been, is not, and will not be officially released.

Advanced Recon Commandos (ARC Trooper) were elite variants of clone troopers in the Grand Army of the Republic during the time of Clone Wars.
Gallery