{{ |Title=Altair accessory kit
|Image=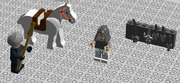 |Theme=Custom:LEGO assassins creed (the video game) |Variations=no |Accessories= |Creator=User:Lavertus |Appearances=Custom:LEGO assassins creed (the video game) }}
description
The small set features an accessory rack containing three throwing knives, Altair's sword and his hidden blade. The set also includes Altair's sword.
Ad blocker interference detected!
Wikia is a free-to-use site that makes money from advertising. We have a modified experience for viewers using ad blockers

Wikia is not accessible if you've made further modifications. Remove the custom ad blocker rule(s) and the page will load as expected.