Customs Article


This article describes a custom creation, custom theme, or other fan material, made by a Brickipedia contributor. It has never been, is not, and will not be officially released.
Catapult Defense is a custom set made by Jeyo in November, 2012. It is the revamped version of Rangers' Catapult set.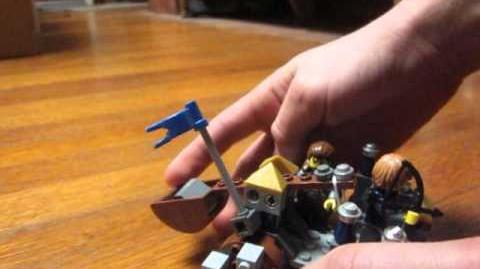 Description
Edit
The set features a catapult, ballista and a defense wall.
The Catapult
The Rangers' catapult is gold, silver and blue catapult with brown wheels and a stone wall mounted on front to defend the two Rangers manning it. The catapult uses snap-back action, that is, it has a [LEGO] rubber band connected to one end. When the part holding the projectile is pulled down, this places strain on the rubber band. When released, the whiplash launches the projectile forward with great speed.
The Ballista
The enemy's armoured ballista also uses snap-back action: a lever, after being pulled back and released, shoots forward and hits the back of a bolt, sending it flying forward with great speed.
The Wall
The wall is made of grey, brown and black pieces, many of them round, and curves outward slightly. Sudark and Jaycrim are behind it, manning the ballista.
Promotional Background
Edit
With a deadly new catapult, the two Rangers attack a small defense post of the enemy! The defense post, however, is not helpless. With a heavily armoured ballista and a wall for cover, the pair of soldiers stationed there are not about to go down without a fight!
Includes
Four minifigures
Working catapult
Working ballista
Minifigures Included
Edit