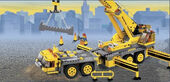 Custom in Progress!
This custom is not yet finished and is being modified by its creator, Omega X.23, and may undergo critical changes while this message remains in place.

Custom: Celestial Clock is a custom Ninjago set created by Omega X.23.
Description
The set includes the celestial clock used by the Overlord and can be used to recreate the battle on the clock. It also includes the Helmet Of Shadows and its perch.
Minifigures
Lord Garmadon, General Kozu, Stone Soldier, Misako, Lloyd Garmadon, Sensei Wu
Progress
Still in progress
Ad blocker interference detected!
Wikia is a free-to-use site that makes money from advertising. We have a modified experience for viewers using ad blockers

Wikia is not accessible if you've made further modifications. Remove the custom ad blocker rule(s) and the page will load as expected.