Customs Article


This article describes a custom creation, custom theme, or other fan material, made by a Brickipedia contributor. It has never been, is not, and will not be officially released.
The Chaos Tavern is a set released by King Kahuka in 2013.
The Chaos Tavern features many Glasses, Tables, and 9 Minifigures.
This is a Warriors set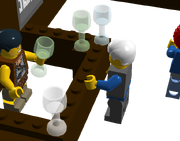 Minifigures