The Minifigure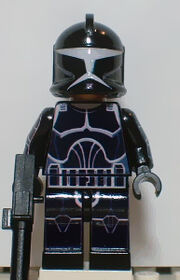 This is a Lego Clone Shadow Trooper I created, it was fairly simple, but it looked AWESOME
Customs Article


This article describes a custom creation, custom theme, or other fan material, made by a Brickipedia contributor. It has never been, is not, and will not be officially released.
How-to-make
Step 1) Find the ingredients, Lego Clone Trooper, Sticker paper, Black paint or dye (If dye, preferably Vinyl) and these decals. (Click on "these" to view the decals)
Step 2) Paint or dye the Clone Trooper to a thick black, but make sure it's smooth.
Step 3) Print out the decals on sticker paper.
Step 4) Cut out the decals and put them on they're corresponding places on the minifigure.
This is how it should look: Click Here to see!