The Minifigure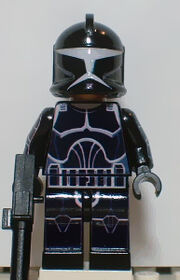 This is a Lego Clone Shadow Trooper I created, it was fairly simple, but it looked AWESOME
Clone Shadow trooper
250px
Theme:

Star Wars

Variations:
Accessories:
Years:

2010

Creator(s):

Akshatagarwal
How-to-make
Step 1) Find the ingredients, Lego Clone Trooper, Sticker paper, Black paint or dye (If dye, preferably Vinyl) and these decals. (Click on "these" to view the decals)
Step 2) Paint or dye the Clone Trooper to a thick black, but make sure it's smooth.
Step 3) Print out the decals on sticker paper.
Step 4) Cut out the decals and put them on they're corresponding places on the minifigure.
This is how it should look: Click Here to see!
Ad blocker interference detected!
Wikia is a free-to-use site that makes money from advertising. We have a modified experience for viewers using ad blockers

Wikia is not accessible if you've made further modifications. Remove the custom ad blocker rule(s) and the page will load as expected.