Customs Article


This article describes a custom creation, custom theme, or other fan material, made by a Brickipedia contributor. It has never been, is not, and will not be officially released.
" So You Wanted To Die By Coming Here."
―Darth Killer
Darth Killer is a Minifigure in the Star Wars Expanded Universe. He is a secert and very rare minifigure.
Darth Killer's Appearance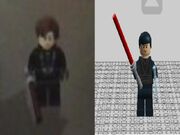 In his 1st variation, He uses Han's head decal, Anakin's hair piece, Rench's torso decal and hands, and holds one of Asajj's lightsabers.
His 2nd variation has the same Lightsaber but his headpiece is a normal one, his face decal is similar to Han's, and his torso decal and hands are black with a robe decal on it. He also holds lighting in his other hand.
Darth Killer's Vehicles
He Owns A Tie Fighter With A Flamethrower,Heat Seeking Missle Launcher,And A Secert Cargo Room. He Has Also Been On Both Death Stars. The Fighter Also Has A Lightsaber Holder.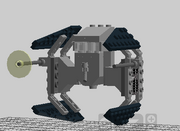 Darth Killer's Sets.
Darth Killer Has Only Been In 2 Sets, Custom:Duel For The Crown And Death Star Escape. His Sets Have 1 Of His 2 Variations.