Customs Article


This article describes a custom creation, custom theme, or other fan material, made by a Brickipedia contributor. It has never been, is not, and will not be officially released.

Hall of Armour is a moc made by CzechMate. It is based upon Tony Stark's hall of armours in the Marvel universe.
Background
It is based off the hall of armours made by Tony Stark, from the cinematic universe of Marvel, and extra suits from Mark 17-42.
Design Process & Design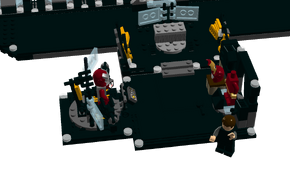 I always tell myself to start making an Iron Man hall of armours - first I made an Iron Man house on LDD (which I may show on another date), then some figure designs. I then started work on this, making Mark 1 - 7, and then Iron Patriot and War Machine. I then started adding other suits, such as the Gemini suit, and more.
I also put in a small work station for Tony. I don't usually do SNOT floors, but it looked nice and sleek, and really added something to the MOC.
After that, I did some final touches, and it came out looking good.
The suit holders are roughly 64 pieces each, and 6 studs wide. Unlike some of my other HoA style things, I didn't make it so simple. I felt it'd be better to make it larger, so it felt more like a "collectors" item.
After this, I added a second row, with almost all suits from Mark 17-42.
I then decided to add another floor, with Pepper, the "Rescue" suit, and the Heartbreaker/heavy lifting suits.
Notes
Almost every Iron Man suit included
SNOT technique is almost everywhere
Gallery