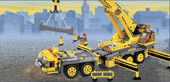 Custom in Progress!
This custom is not yet finished and is being modified by its creator, Thatstinkyguy, and may undergo critical changes while this message remains in place.
LEGO Doctor Who: The Video Game
LEGO Theme:
Developer(s):
Publisher(s):

Warner Bros. Interactive Entertainment

Date Released:

Never

Genre:

Adventure, Science Fiction, Free Roam

Mode(s):

Single Player, two player simultaneous

Rating:

RP

Platforms:

Playstation 4, PlayStation 3, Xbox One, Xbox 360, Wii U, Nintendo 3DS, Windows PC
LEGO Doctor Who: The Video Game is a LEGO-based Doctor Who video game.
Game Summary
Play through episodes of Doctor Who with the Doctor and his companions. And if that's not enough, then expand with pre-order bonus levels and the Torchwood DLC.
Notice: The reason I can't add the last episode of the First Doctor and the first episode of the Second Doctor is because they are missing.
Voices
Peter Capaldi - The Twelfth Doctor (Archive Audio & New Audio)
Matt Smith - The Eleventh Doctor (Archive Audio & New Audio)
David Tennant - The Tenth Doctor (Archive Audio & New Audio)
Christopher Eccleston - The Ninth Doctor (Archive Audio)
John Hurt - The War Doctor (Archive Audio)
Paul McGann - The Eighth Doctor (Archive Audio & New Audio)
Sylvester McCoy - The Seventh Doctor (Archive Audio & New Audio)
Colin Baker - The Sixth Doctor (Archive Audio & New Audio)
Peter Davison - The Fifth Doctor (Archive Audio & New Audio)
Tom Baker - The Fourth Doctor (Archive Audio & New Audio), The Curator (Archive Audio & New Audio)
Jon Pertwee - The Third Doctor (Archive Audio)
Patrick Troughton - The Second Doctor (Archive Audio)
William Hartnell - The First Doctor (Archive Audio)
Characters
Character
Weapons/Tools
Abilities
Image
The Doctor

Time Lord Intelligence
Regeneration
Hacking
Technology
Repair broken objects

The First Doctor

Sonic Screwdriver
Walking Stick

Time Lord Intelligence
Regeneration
Hacking
Technology
Repair broken objects

The Second Doctor

Sonic Screwdriver
Recorder

Time Lord Intelligence
Regeneration
Hacking
Technology
Repair broken objects

The Third Doctor

Sonic Screwdriver
Fencing Sword

Time Lord Intelligence
Regeneration
Hacking
Technology
Repair broken objects

The Fourth Doctor

Time Lord Intelligence
Summon K-9
Regeneration
Hacking
Technology
Repair broken objects

The Fifth Doctor

Sonic Screwdriver
Cricket Bat

Time Lord Intelligence
Regeneration
Hacking
Technology
Repair broken objects

The Sixth Doctor

Sonic Screwdriver
Umbrella

Time Lord Intelligence
Regeneration
Hacking
Technology
Repair broken objects

The Seventh Doctor

Sonic Screwdriver
Umbrella

Time Lord Intelligence
Regeneration
Hacking
Technology
Repair broken objects

The Eighth Doctor

Time Lord Intelligence
Regeneration
Hacking
Technology
Repair broken objects

The War Doctor

Time Lord Intelligence
Regeneration
Hacking
Technology
Repair broken objects

The Ninth Doctor

Time Lord Intelligence
Regeneration
Hacking
Technology
Repair broken objects

The Tenth Doctor

Time Lord Intelligence
Regeneration
Hacking
Technology
Repair broken objects

Time Lord Intelligence
Regeneration
Hacking
Technology
Repair broken objects

Time Lord Intelligence
Regeneration
Hacking
Technology
Repair broken objects

The Master

Time Lord Intelligence
Regeneration
Hacking
Technology
Repair broken objects

The Master (1971-1973)

Tissue Compression Eliminator

Time Lord Intelligence
Regeneration
Hacking
Technology
Repair broken objects

The Master (1976)

Tissue Compression Eliminator

Time Lord Intelligence
Regeneration
Hacking
Technology
Repair broken objects

The Master (1981)

Tissue Compression Eliminator

Time Lord Intelligence
Regeneration
Hacking
Technology
Repair broken objects

The Master (1981-1989)

Tissue Compression Eliminator

Time Lord Intelligence
Regeneration
Hacking
Technology
Repair broken objects

The Master (1996)

Tissue Compression Eliminator

Time Lord Intelligence
Regeneration
Hacking
Technology
Repair broken objects

The Master (Professor Yana)

Tissue Compression Eliminator

Time Lord Intelligence
Regeneration
Hacking
Technology
Repair broken objects

The Master (Harold Saxon)

Time Lord Intelligence
Regeneration
Hacking
Technology
Repair broken objects

The Mistress

Time Lord Intelligence
Regeneration
Hacking
Technology
Repair broken objects

Susan Foreman

Time Lord Intelligence
Agility

Ian Chesterton
Barbara Wright
Dodo Chaplet
Ben Jackson
Polly Wright
Jamie McCrimmon
Victoria Waterfield
Zoe Heriot

Technology
Hacking
Agility

Jeremy Carstairs
Liz Shaw

Technology
Hacking
Agility

Brigadier Lethbridge-Stewart

Interact with UNIT Pannels
Technology
Hit targets
Destroy silver LEGO objects

Sarah Jane Smith (Young)

Agility
Summon K-9 (Only in free play & free roam)

Sarah Jane Smith (Old)

John Benton

Interact with UNIT Pannels
Technology
Hit targets

Mike Yates

Interact with UNIT Pannels
Technology
Hit targets

Harry Sullivan
Adric
Nyssa

Agility
Technology
Hacking

Tegan Jovanka
Peri Brown
Hugo Lang
Azmael

Time Lord Intelligence
Hacking
Technology

Melanie Bush

Agility
Technology
Hacking

Ace McShane

Agility
Destroy silver LEGO bricks

Grace Holloway
Chang Lee
Rose Tyler

Agility
Transform into The Bad Wolf (After completing "The Parting of the Ways")

Mickey Smith

Technology
Hacking
Repair broken objects

Captain Jack Harkness

Interact with Torchwood Pannels
Hit targets
Solve certain platforms via Sonic Blaster

Jackie Tyler
Martha Jones

Interact with UNIT Pannels
Agility

Name
Playable
Locations
Enemies
Boss/es
An Unearthly Child

The First Doctor
Susan Foreman
Barbara Wright
Ian Chesterton

The War Machines

The First Doctor
Dodo Chaplet
Ben Jackson
Polly Wright

WOTAN

Professor Brett
Professor Krimpton

The First Doctor Levels

Name
Playable
Locations
Enemies
Boss/es
The Tomb of the Cybermen

The Second Doctor
Jamie McCrimmon
Victoria Waterfield

The War Games

The Second Doctor
Jamie McCrimmon
Zoe Heriot
Jeremy Carstairs

The Planet of The War Games
Gallifrey

The Second Doctor Levels

Name
Playable
Locations
Enemies
Boss/es
The Spearhead from Space

The Third Doctor
Liz Shaw
Brigadier Lethbridge-Stewart

Earth

England, 1970s

London, 1970s
UNIT HQ
Auto Plastics
Ashbridge Cottage Hospital
Oxley Woods

Channing
The Nestene Consciousness

The Planet of the Spiders

The Third Doctor
Sarah Jane Smith (Young)
Brigadier Lethbridge-Stewart
John Benton
Mike Yates

The Third Doctor Levels

Name
Playable
Locations
Enemies
Boss/es
The Robot

The Fourth Doctor
Sarah Jane Smith (Young)
Harry Sullivan
Brigadier Lethbridge-Stewart
John Benton

Scientific Reform Society Members

K1
Hilda Winters
Professor Kettlewell

Logopolis

The Fourth Doctor
Adric
Nyssa
Tegan Jovanka

Logopolis
Earth

The Pharos Project
England

London, 1980s
Sussex, 1980s

The Fourth Doctor Levels

Name
Playable
Locations
Enemies
Boss/es
Castrovalva

The Fifth Doctor
Adric
Nyssa
Tegan Jovanka

The Caves of Androzani

The Fifth Doctor
Peri Brown

Androzani Major
Androzani Minor

The Fifth Doctor Levels

Name
Playable
Locations
Enemies
Boss/es
The Twin Dilemma

The Sixth Doctor
Peri Brown
Hugo Lang
Azmael

Revelation of the Daleks

The Sixth Doctor
Peri Brown

Necros

The 38th Century
Tranquil Repose

The Sixth Doctor Levels

Name
Playable
Locations
Enemies
Boss/es
Time & the Rani

The Seventh Doctor
Melanie Bush

Survival

The Seventh Doctor
Ace McShane

The Cheetah People
The Kitlings

The Seventh Doctor Levels

Name
Playable
Locations
Enemies
Boss/es
The Movie

The Eighth Doctor
The Seventh Doctor
Grace Holloway

The Eighth Doctor Levels

Name
Playable
Locations
Enemies
Boss/es
The Time War

The War Doctor
Time Lord Soldier

The War Doctor Levels

Name
Playable
Locations
Enemies
Boss/es
Rose

The Ninth Doctor
Rose Tyler
Mickey Smith

The Parting of the Ways

The Ninth Doctor
Rose Tyler

The Ninth Doctor Levels

Name
Playable
Locations
Enemies
Boss/es
The Christmas Invasion

The Tenth Doctor

The Tenth Doctor (Pajamas)

Rose Tyler
Mickey Smith
Jackie Tyler

Earth

England

London, 2000s (Christmas Time) (Story Only)

Sycorax Ship

Utopia

The Tenth Doctor
Martha Jones
Captain Jack Harkness
The Master (Temporarily)

The Rise of Harold Saxon

The Tenth Doctor

The Tenth Doctor (Old)
The Tenth Doctor (Small)

Martha Jones
Captain Jack Harkness

Earth

England

London, 2000s
London, Alternate

The Valient

The End of Time

The Tenth Doctor
Wilfred Mott
Rose Tyler
Sarah Jane Smith (Old)
Luke Smith

The Tenth Doctor Levels

Name
Playable
Locations
Enemies
Boss/es
The Eleventh Hour

The Eleventh Doctor

The Eleventh Doctor (Tenth Doctor Outfit)

Amy Pond
Rory Williams

Earth

England

London, 2010s
London, 1990s

The Pandorica

The Eleventh Doctor
Amy Pond
Rory Williams
River Song

Earth

England, 2010s
England, 1990s

Atraxi
Autons
Blowfish
Chelonians
Cybermen
Daleks
Draconians
Drahvins
Haemogoth
Hoix
Judoon
The Nestene Consciousness
Roboforms
Silurians
The Slitheen family
Sontarans
Sycorax
Terileptils
Uvodni
Weevils
Zygons

The Eleventh Doctor Levels