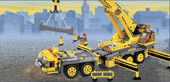 Custom in Progress!
This custom is not yet finished and is being modified by its creator, Luigitehplumber, and may undergo critical changes while this message remains in place.
LEGO Island Returns
[[File:|250px]]
Developer(s):
Publisher(s):

Warner Bros. Interactive Entertainment

Date Released:

2011 (Never Really came out though)

Genre:

Action-Adventure

Mode(s):

Single Player, two player simultaneous

Rating:

RP

Platforms:

Windows PC, Playstation 3, Xbox 360, Wii
LEGO Island Returns is a reboot of the LEGO Island series. Unlike most LEGO games from Traveller's Tales, the gameplay is more like the real LEGO Island games.
Story
The Brickster has turned LEGO Island into his own paradise by gaining a magical LEGO crown and everybody on LEGO Island has been taken away by Bricksterbots and Henchmen, and only Pepper Roni can save them all. Can he go through all the different LEGO Worlds to free his friends and defeat The Brickster?
Worlds
LEGO City
A Traditional LEGO City with many places to visit and go. The City is attacked by The Brickster's Henchmen in order to keep hold of Mama & Papa after The Brickster finds out they landed there.
Enemies: Regular Crooks, Crowbar Crooks, Bike Crooks, Shield Crooks, Disguised Crooks
Boss: Brickster-Bot Powered Mech
Land of Ninjago
The Land of Ninjago is also attacked by the Brickster with Sky Lane kidnapped! Pepper Roni seeks the help of all the Ninjas to gain some new skills.
Enemies: Skeletons, Snakes,
Pirates Island
Fantasy Era
Space
The Brickster's Island
LEGO Island, now taken over by an overpowered Brickster! Can Pepper Roni defeat him?
Enemies: Brickster's Henchman, Brickster-Bots
Boss: The Brickster (First Half), Island Destroyer (Final Boss)