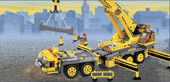 Custom in Progress!
This custom is not yet finished and is being modified by its creator, Lavertus, and may undergo critical changes while this message remains in place.
Customs Article


This article describes a custom creation, custom theme, or other fan material, made by a Brickipedia contributor. It has never been, is not, and will not be officially released.
Journey in the 1970s
LEGO Theme:
Creator(s):
Genre:

Action, Adventure

Mode(s):

Single Player, Multiplayer

Platform(s):

Xbox One, Play-Station 4, PC
LEGO Journey in the 70s is a custom LEGO Video Game written by Lavertus.
Concept
The player must progress through several stories, each story based off a different theme based off the sets released between 1978 and 1980. There are levels for the Police Service, Fire Brigade and Astronauts.
Gameplay
The player can complete the stories in any order they wish. The Police level contains a chase involving a newly designed car and a retro Police Car. The second level then involves a boat chase with the final level involving taking off in a retro helicopter from the retro Police Station and having to navigate several obstacles, before landing in the street and arresting two robbers.
The Fire story involves driving in a fire engine to put out a car on fire. The second level means driving from the station in the fire chief's car and putting out a small house that is on fire. For the final level, you must enter a building on fire and rescuing a trapped civilian.
For the space story, you must first launch a rocket and coordinate it to landing on the moon. The second level requires you to drive to the 6970 Beta-1 Command Base and fixing the sliding mechanism. The final level requires you to win a race in a small fighter against a fighter of the same make.
Written by Lavertus.