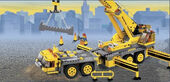 Custom in Progress!
This custom is not yet finished and is being modified by its creator, Thibo1102, and may undergo critical changes while this message remains in place.
LEGO Scooby-Doo! Mystery Incorporated
LEGO Theme:
Creator(s):
Genre:

Action, Adventure

Mode(s):

Singleplayer, Co-op

Platform(s):

PlayStation 4, PlayStation 3, Xbox One, Xbox360, Wii U, Nintendo 3DS, PC
LEGO Scooby-Doo! Mystery Incorporated is a Video Game based on the TV show "Scooby-Doo! Mystery Incorporated".
Game Summary
Play through 52 mysterious levels and help Scooby-Doo and the gang to solve the case! Face off with the masked menaces of Crystal Cove and save the day. But the "most hauntedest place on earth" holds much darker secrets then you'd first expect. So free Crystal Cove from the hands of evil, you meddling kids!
Characters
Character
Weapons
Abilities
Image
Scooby-Doo

Dig
Follow footprints
Enter doggy hatches

Shaggy

Use slingshot to target objects
Use flashlight to illuminate dark areas

Fred

Daphne

Athletic
Scream to break glass

Velma

Hack computers
Use magnifying glass to find clues

Sheriff Bronson Stone

Use magnifying glass to find clues

Mayor Jones
Construction Worker
Slime Mutant

Pull objects with arm
Pass through grates

Prof. Raffalo
Franklin Fruitmeir
Angel Dynamite
Grady Gator

Greta Gator

Gunther Gator

Man-Crab
Ad blocker interference detected!
Wikia is a free-to-use site that makes money from advertising. We have a modified experience for viewers using ad blockers

Wikia is not accessible if you've made further modifications. Remove the custom ad blocker rule(s) and the page will load as expected.