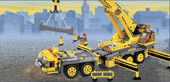 Custom in Progress!
This custom is not yet finished and is being modified by its creator, King Kahuka, and may undergo critical changes while this message remains in place.
THIS IS IN PROGRESS
Customs Article


This article describes a custom creation, custom theme, or other fan material, made by a Brickipedia contributor. It has never been, is not, and will not be officially released.
Gameplay
The gameplay is, of course, like any other TT game. The game has a few different features, like spaceship battles (from LEGO Star Wars The Complete Saga) or Free Roam (from LEGO Batman The Video Game and LEGO Lord Of The Rings). The hub for this game is Chip Nebula's Space Station.
Story
Alpha Draconis finds an unknown crystal and threatens to destroy the entire galaxy, its up to the astronauts of every theme to stop this threat.
Characters
| Character | Weapons | Abilities | Image | Unlocked |
| --- | --- | --- | --- | --- |
| Benny | | | | Unlocked after completing The First Launch |
| Red Classic Spaceman | | | | Unlocked after completing The First Launch |
| White Classic Spaceman | | | | Unlocked after completing The First Launch |
| Yellow Classic Spaceman | | | | Unlocked after completing The First Launch |
| Black Classic Spaceman | | | | Unlocked after completing The First Launch |
| Blacktron Astronaut | | | | Unlocked after being bought from Free-Roam |