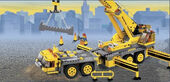 Custom in Progress!
This custom is not yet finished and is being modified by its creator, CM4S, and may undergo critical changes while this message remains in place.
Loki's S.H.I.E.L.D Break-in
Minifigures:

Loki (new staff and hair), Nick Fury (coat), Hawkeye (Clint Barton), Phil Coulson

Theme:
Creator:
Description
SPOILER: IF YOU HAVE NOT SEEN THE AVENGERS, DO NOT READ ON. LEAVE THE PAGE IMMEDIATELY!
While figuring out the Tesseract's mysterious behavior, it opens a portal! Loki appears and hypnotizes Agent Clint Barton and escapes with the Tesseract on a S.H.E.I.L.D truck. Nick Fury and Phil Coulson quickly escape S.H.E.I.L.D. HQ before it caves in! Can you chase him down before it's too late? You decide! Includes Loki, Clint Barton, Nick Fury and Phil Coulson minifigures.
Minifigures Included
Notes
All Minifigures are new! (Or new variants)
Features catapult feature to Launch Loki onto the ground!
Loki has a double face!
LOKI!!
Other Avengers Customs from CM4S
Ad blocker interference detected!
Wikia is a free-to-use site that makes money from advertising. We have a modified experience for viewers using ad blockers

Wikia is not accessible if you've made further modifications. Remove the custom ad blocker rule(s) and the page will load as expected.