Creator:
Mad Hatter's Fun House is a custom set made by Boo JC.
History
Batman and Robin battle Mad Hatter at his fun house, where he has at the top a control-mind big hat. Help them to destroy it
Information
Pieces: 123
Characters: Batman, Robin, Mad Hatter
Custom:Boo JC lego custom sets
Extras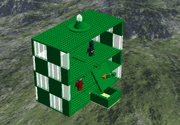 Ad blocker interference detected!
Wikia is a free-to-use site that makes money from advertising. We have a modified experience for viewers using ad blockers

Wikia is not accessible if you've made further modifications. Remove the custom ad blocker rule(s) and the page will load as expected.