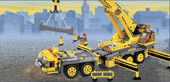 Custom in Progress!
This custom is not yet finished and is being modified by its creator, CM4S, and may undergo critical changes while this message remains in place.
Customs Article


This article describes a custom creation, custom theme, or other fan material, made by a Brickipedia contributor. It has never been, is not, and will not be officially released.
Marvel Heroes
Related themes:
Creator:
Marvel Heroes is a custom theme by CM4S that evolves around the Marvel superheroes Spider-Man, Hulk, and more to come.
Set list
Unnamed Spider-Man set
Unnamed Hulk set
Unnamed Iron Man set
Unnamed Fantastic Four set
Minifigures