Minecraft Desert Micro-World
Minifigures:

2

Theme:

Minecraft Micro-Worlds

Creator:

Minecraft Desert Micro-World is a custom set made by Creeper S. The set is based off the popular sandbox game, Minecraft. It ressembles the Desert Biome found in the game.
The set features a sandy area with a few cacti. There is small source of water by the sand dune. Under the surface is a small cave system. In there redstone, coal and water can be found. The set includes Steve and a Zombie Micromob. It also includes many spare pieces, which includes sand, wood, stone, redstone and coal.
Gallery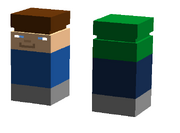 Notes
Although the Steve Micromob has face details, the Zombie currently doesn't have any.
The set includes some spare pieces of wood, yet there aren't any trees in the set.
Ad blocker interference detected!
Wikia is a free-to-use site that makes money from advertising. We have a modified experience for viewers using ad blockers

Wikia is not accessible if you've made further modifications. Remove the custom ad blocker rule(s) and the page will load as expected.