Modified Green Grocer
Pieces:

519

Minifigures:

3

Theme:

Modular Buildings

Creator:

Modified Green Grocer is a custom set made with LDD 4.2.5. It is for the Modular Buildings line.
Building
First Floor
The exterior of the first floor has an archway that leads to the elevator shaft
. On the inside, there is a fridge with cans and milk cartons and a cashier.
Second Floor
The elevator, and some fruits and vegetables. Note the door to access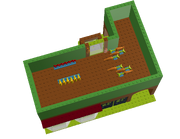 the elevator is on the other side of the building.
Third Floor
The third floor has a butcher/baker who is selling meat and bread. Again,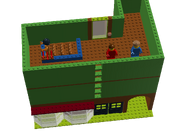 the elevator shaft is on the same side as the second floor but a different side from the first floor.
Roof
Two G signs are on the roof, hence the name Green Grocer.
Ad blocker interference detected!
Wikia is a free-to-use site that makes money from advertising. We have a modified experience for viewers using ad blockers

Wikia is not accessible if you've made further modifications. Remove the custom ad blocker rule(s) and the page will load as expected.