Customs Article


This article describes a custom creation, custom theme, or other fan material, made by a Brickipedia contributor. It has never been, is not, and will not be officially released.

Ogel's Underwater Base is a set in Adventures of John and Jack theme.
This set includes A Cannon and a Prison
This place is appearing in the novel. The chapter is still unknown.
More Pictures
Edit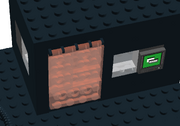 Minifigures Included
Edit