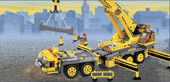 Custom in Progress!
This custom is not yet finished and is being modified by its creator, Shiva Kuzunasee, and may undergo critical changes while this message remains in place.
Customs Article


This article describes a custom creation, custom theme, or other fan material, made by a Brickipedia contributor. It has never been, is not, and will not be officially released.
Protus Super Heroes
Subthemes:
Subtheme of:
Related themes:
Creator:
Protus Super Heroes is a LEGO theme created by Shiva. It is based on his Comic Universe and Cinematic Universe.
Description
Edit
The theme is based on the comics, made by the creator of this theme, Shiva. Comics were about super heroes who are always ready to save the world. Almost all the super heroes and even villains live in the fictitious Hermitian Empire, ruled by The Emperor Ian I (successing the throne from The Emperor Shiva I).
Theme itself consists of video games and sets about super heroes of Protus.
Minifigures
Edit
Releases
Edit
Fight with criminals
Truck Attack
Video Games
Edit
Originally Protus was created by Shiva's nephew, not Shiva himself. Shiva was a co-creator and in 2017 he left Protus Comics. Now he only creates LEGO Customs with that theme.
Minifigure of Insane was designed by rurisk, user of eBay.
There is a character in Protus, Lego Man, who is actually a LEGO minifigure from LEGO Universe. His appearance is similar to appearance of Bob, mascot of LEGO.