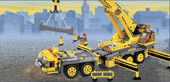 Custom in Progress!
This custom is not yet finished and is being modified by its creator, Shingleboo, and may undergo critical changes while this message remains in place.
Customs Article


This article describes a custom creation, custom theme, or other fan material, made by a Brickipedia contributor. It has never been, is not, and will not be officially released.
Background
Edit
Since the Exo-Force team disbanded 5 years ago, Ryo has been working as a mechanic in LEGO City. He has also been secretly helping design vehicles for organizations such as the ADU, Power Miners and Atlantis Salvage Crew.