Samurai Z
Theme:
Variations:

Normal, Evil

Accessories:
Years:
Creator(s):
Samurai Z was a student of Samurai X until Samurai Z turned evil and attacked Samurai X and then joined forces with Lord Garmadon. He is now apart of the evil Samurais.
Background
Samurai Z was a student of Samurai X until he went to the The Temple of Darkness and drank the potion inside, as a result: It corrupted him slowly. Firstly his face went gray and puss started pouring out, next it went darker and the puss stopped, and lastly his eyes went red and he was given a dark suit of armour by Lord Garmadon he took it and joined the Evil Samurais.
Gallery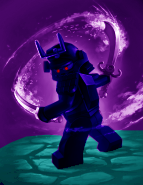 Creator
Ad blocker interference detected!
Wikia is a free-to-use site that makes money from advertising. We have a modified experience for viewers using ad blockers

Wikia is not accessible if you've made further modifications. Remove the custom ad blocker rule(s) and the page will load as expected.