Space Shuttle Endeavour
Pieces:

2367

Minifigures:

2 (not included in images)

Creator:
Space Shuttle Endeavour (Orbiter Vehicle Designation: OV-105) is one of the retired orbiters of the Space Shuttle program of NASA, the space agency of the United States. Endeavour was the fifth and final spaceworthy NASA space shuttle to be built, and first flew in May 1992 on mission STS-49 and its last mission STS-134 was in May 2011. The STS-134 mission was originally planned as the final mission of the Space Shuttle program, but with authorization of the STS-135 mission, Atlantis became the last Space Shuttle to fly.
Designer's Notes
When Endeavour had its final flight in 2011, I was inspired to build a space shuttle MOC. I didn't intend for it to turn out as large as it did (containing 2367 pieces without the interior I built, containing Spacelab), but I'm highly impressed with how it turned out. It's a bit smaller (about four times smaller, actually) than minifig scale, but there are two seats for minifigures to sit in in the front. I did manage to build it in real life identical to the LDD version I designed, so that was quite nice. When finished, it weighs about 7 pounds (3 kilograms) with interior contents. In my opinion, this is probably one of the best System MOCs I've ever made.
--ToaMeiko (talk) 22:15, June 23, 2013 (UTC)
Gallery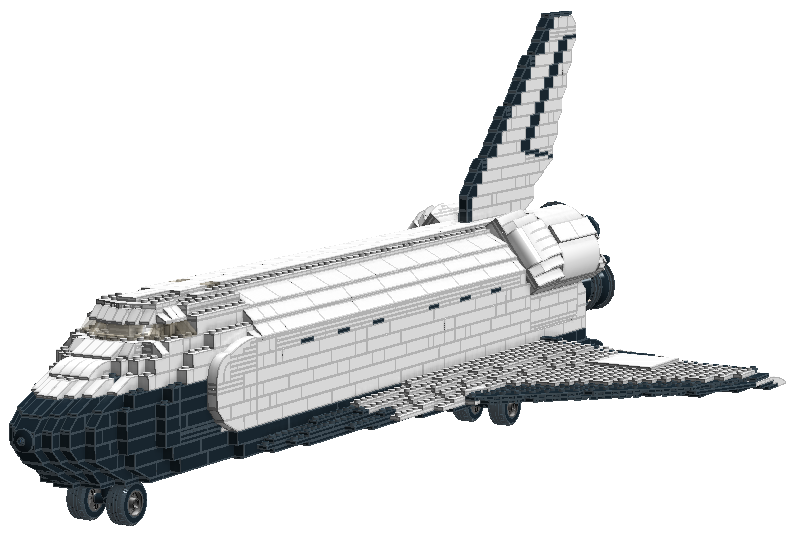 Ad blocker interference detected!
Wikia is a free-to-use site that makes money from advertising. We have a modified experience for viewers using ad blockers

Wikia is not accessible if you've made further modifications. Remove the custom ad blocker rule(s) and the page will load as expected.