Customs Article


This article describes a custom creation, custom theme, or other fan material, made by a Brickipedia contributor. It has never been, is not, and will not be officially released.

Golden Peaks is a set in Adventures of John and Jack
About
This set includes 8 minifigures. This place is where the Golden Weapons were forged.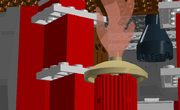 Novel
The Temple is appearing on Season 2 of Adventures of John and Jack and Ninjago: Crux Prime, but the chapters are unknown
Minifigures Included