Customs Article


This article describes a custom creation, custom theme, or other fan material, made by a Brickipedia contributor. It has never been, is not, and will not be officially released.
The Serpentine Bus is a custom set created by Omega X.23. It includes 4 minifigures: Lylod Garmadon, Kendo Kai, Cole ZX and Skales.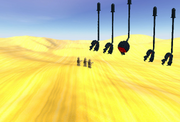 Description
The set includes the iconic Serpentine Bus shown in "The Snake King" in the Ninjago series. It includes 4 minifigures and a lot of mini-snakes. It also includes a bonus spinner crown. The Bus has a opening door and a detailed interior with seats lining up the left and right. It also features a specially designed seat for Skales. It also has Glow-In-The-Dark eyes. It features a lot of rare parts in rare colors, such as a purple 1X1 smooth round stud that is included in large amounts. It also has no stickers.
Progress
Ideas: Finished
Research: Finished
Pre-production: Finished
Production-30%: Finished
-50%: Finished
-80%: Finished
Status: Finished
Editing: Finished
Releasing: Finished
Gallery
More information to come soon! Omega X