If I could add one thing to the set to improve it, what should it be?
Customs Article


This article describes a custom creation, custom theme, or other fan material, made by a Brickipedia contributor. It has never been, is not, and will not be officially released.

The Throne Room Showdown is a set from the second wave of The Atomist, although it is based on the first wave.
Description
Edit
This set has only one section, the throne room. It consists of 2 platforms, connected by a bridge. The forward platform contains a large niche at the top of some steps, and is the door to the throne room. The niche is filled with light stone grey blocks, positioned to be knocked down by a missile launcher representing Vaurien's Avaenir(magic), as seen here:
The bridge between the platfroms is simple, one stud high, 6 wide and has no rails. Positioned regularly along the bridge are grates, filled with fire. At the end of the bridge is the second platform, with the throne on it. This platform is upraised, with several steps leading up to it. Atop the steps is a black throne with red decals, in an alcove made of gridded panels, with firs burning behind them. On either side of the throne, below it, are alcoves with mysterious objects in them. The steps leading to the throne are booby trapped, as behind the throne is a mechanism which destroys the steps, as seen here: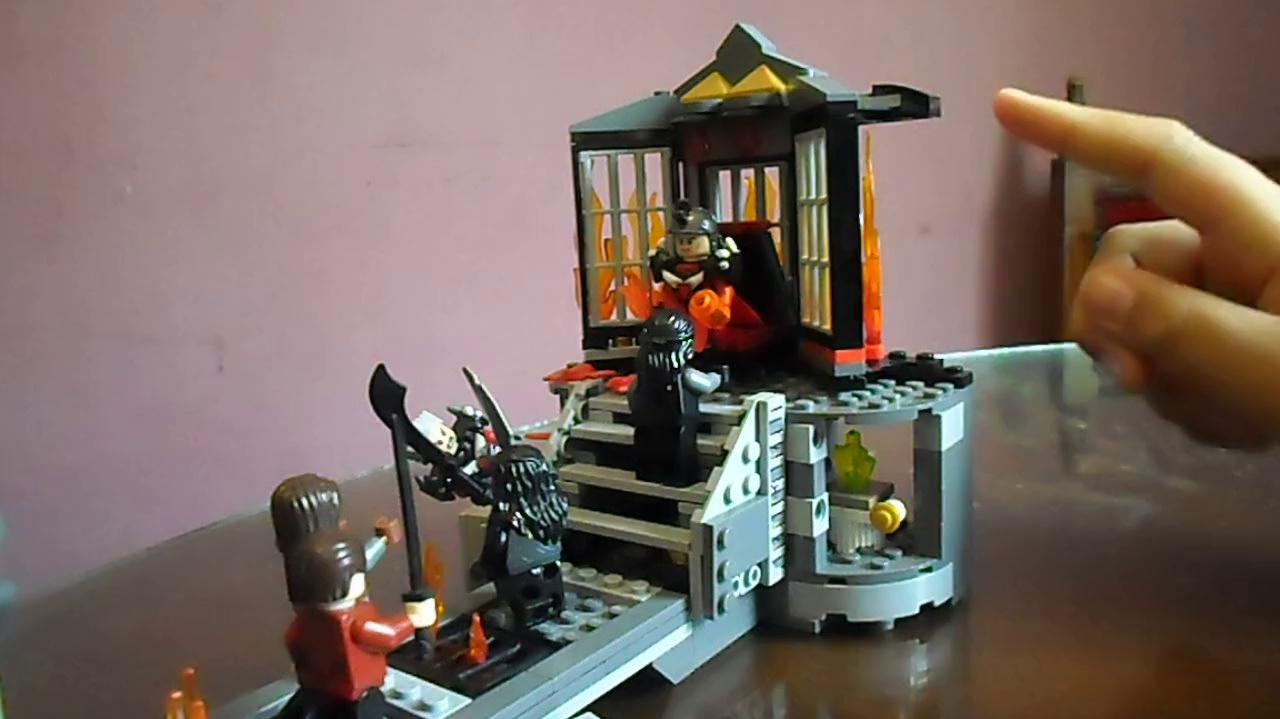 Background
Edit
Having mad an alliance with the dangerous and mysterious Elena Grievance, Vaurien and Mahrous have snuck into Dominus' palace, with the help of 2 assassins, exclusive to this set. They must now battle his generals, and Dominus himself if they wish to end the war - but will the Powers of the World be enough to stop Dominus D Tenebris, or will he send them to death, and doom the world...
Minifigures
Edit