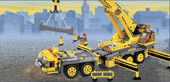 Custom in Progress!
This custom is not yet finished and is being modified by its creator, Omega X.23, and may undergo critical changes while this message remains in place.
Customs Article


This article describes a custom creation, custom theme, or other fan material, made by a Brickipedia contributor. It has never been, is not, and will not be officially released.
Custom: Tick Tock
Related themes:
Creator:

Tick Tock is a custom Custom: Monster Fighters set created by Omega X.23.
Description
It contains Lord Vampyre's personal warship with a moonstone-powered ion cannon which he plans to destroy the Monster Fighters HQ.
Minifigures
Notes
The ion cannon can move up and down and also can be raised via a gear on the ship.
The Captains cabin can be accessed by a wall on a hinge.