Customs Article


This article describes a custom creation, custom theme, or other fan material, made by a Brickipedia contributor. It has never been, is not, and will not be officially released.
Titanic is a MOC created by SKP4472. Designing of the MOC started in August 2011.
Background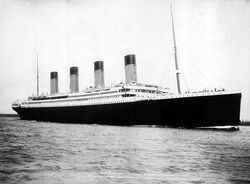 The liner sank on its maiden voyage back on the 15th April 1912 in the North Atlantic after it struck an ice-berg. The liner sank in less than two hours and claimed the lives of over 1500 of the 2200 souls on-board.
With less than a year left till the 100th Anniversary of the sinking of RMS Titanic I have decided to create a LEGO minifigure-scale model of the liner. The entire creation of the ship may take several years but I'm determined to make this work.
Steps
The following steps will be made:
Design the liner bit by bit building one section at a time using LDD
Put the entire ship together on LDD.
Buy all the pieces.
Buy just over 2,200 minifigures (yes, I know it's allot).
Build the ship bit by bit.
Plan
If all this succeeds I will consider doing the following to it:
Hire out a swimming pool capable of holding the entire size of the ship (can you guess what I'm doing here?)
Now we all know that a LEGO brick can float on water, the question is, can hundreds of thousands of LEGO bricks do the same? These are the two possibilities:
One: it sinks as soon as it's lowered into the pool.
Or Two: it stays afloat letting water flow in at a slow rate.
If it floats, I will take it out of the water and to the correct scale, take a line of bricks out of the star-board side of the ship. I will then place it back in the water and video it sinking.
If it sinks then the ship will be raised and I will insert little bags or something that will hold air within them to help it stay afloat. Hence when I take the gap out, It would hopefully sink at a slow rate.
Gallery