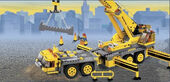 Custom in Progress!
This custom is not yet finished and is being modified by its creator, Sparrow9988, and may undergo critical changes while this message remains in place.
Von Doom Space Shuttle is a Sparrow9988 custom in his Fantastic Four theme.
Background
Victor refuses Reed's plea to abort the mission, knowing he must produce results to justify his expenditure, no matter the human cost involved. Knowing Ben Grimm is space-walking to set up equipment, Reed, Susan and Johnny leave the shielded inner area of the shuttle to rescue him, and Victor closes the shield behind them. Whilst Victor is seemingly safe, the others are exposed to the cloud. Ben receives full exposure out in space, while the others receive a more limited dose within the shuttle.
Minifigures Included
Notes
This set is based on a scene in the 2005 movie "Fantastic Four"
Although the team is in a Space Station in the movie, the scene is depicted in a Space Shuttle in LEGO.
Ad blocker interference detected!
Wikia is a free-to-use site that makes money from advertising. We have a modified experience for viewers using ad blockers

Wikia is not accessible if you've made further modifications. Remove the custom ad blocker rule(s) and the page will load as expected.