Customs Article


This article describes a custom creation, custom theme, or other fan material, made by a Brickipedia contributor. It has never been, is not, and will not be officially released.
background
This set takes place during the Rise of the Nindroids, when the Ninja, Imperial commanders, the Reclaimers and other military leaders meet holographically in Ruby's chamber to discuss what to do about the Nindroid army preparing to take over Ninjago.
Description
This set consists of an elevated, miniature part of the council chamber, with a hologram of Bluemist's head, seating for 10 and a small armory of Silimatic weaponry in the back.
Additionally, it has a feature which allows it to rotate, simulating the council chamber's ability to rotate and generate holograms. It also includes 3 minifigures: Kai in his Kimono, General Valet the commander of Bluemist's forces, and Fleet Commander Serat the Commander of Ruby's Silimatic Fleet.
gallery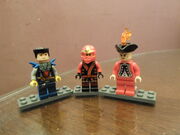 Notes
Serat and Valet are exclusive to this set
The weapons included are 4 ruby Silimatic grenades, 2 ruby Silimatic swords,a Crystin crystal sword, a Bluelite sword, 2 Sili-spears and 2 ruby rods.
This also includes 3 Bluelite crystin shields.