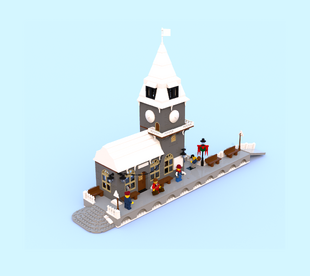 Introduction
Lego have released two trains and a lot of nice buildings for the winter village, but it still misses a nice place to stop. This is a station with a nice clock tower with two bells so that the citizens can keep track on the time during the Christmas shopping. Inside the station building there is a waiting room, full ticket booth and a small workshop in the tower for maintaining the clock and the bells. On the right side of the station you have a nice fountain and the train schedule. As you can see in the pictures this would be a very nice supplement for the old holiday train (10173) and this years new winter village set (10254).
Basic Info
Approx Dimensions: Length 62 cm x Width 12.8 cm x Height 37,4 cm
Number of pieces (with minifigs, without track): 1200
Clock print: 17038

The space inside the tower have been one of the biggest challenges, how to fit the clockwork for three clocks inside such small a tower. Since the tower is so small there are used window frames with a "safety grid" infront. The plan with the windows is to add decals to the transparent window tile that looks like the backside of a clock with gears to get some more details around the mechanics.
For more info check: https://ideas.lego.com/projects/154973
Ad blocker interference detected!
Wikia is a free-to-use site that makes money from advertising. We have a modified experience for viewers using ad blockers

Wikia is not accessible if you've made further modifications. Remove the custom ad blocker rule(s) and the page will load as expected.